Ship building Straight Pipe is used to connect pipes in the ship a variety of mechanical equipment, used to convey information about the working medium water, oil, gas and so on. Ship line has two categories: power lines and ship system piping. Power line is used for the main and auxiliary services of various piping for fuel, oil, cooling water, compressed air, exhaust gas, waste heat and other pipeline. Ship piping systems is to improve the anti-sinking, the ship's stability, in order to meet the crew, passengers need a normal life. Many systems ship systems, promising a full boat of marine and freshwater water supply system; to regulate use of ships' ballast water ballast system; to exclude the use of bilge water bilge discharge system; compressed air for the whole ship with compressed air systems; fire extinguishing systems and so on. These systems are used in equipment such as pumps and compressors mostly electric and automatic control.
Photo of our Straight Pipe: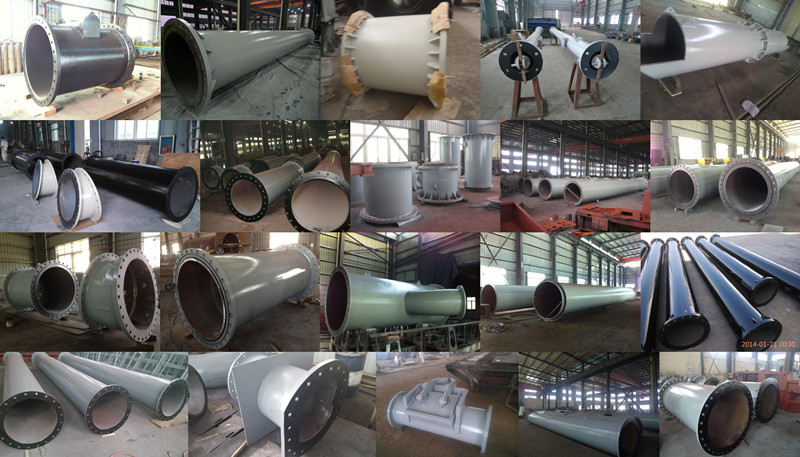 Procedure
- cutting material
- Welding seam preparation
- Pre roll bending of plate tip
- Rolling
- Pre heating
- Welding the vertical seam inside
- outside gas gauging(gas explosion) and cleaning root, then welding outside
- rolling to correct ovality
- Respecting tollerance
- assembly and welding neck flanges, welding 100% full penetration, make sure the straightness, perpendicularity
- assemble and welding hoisting eyes and other plates on the pipe
- do blasing and painting.
Assembly
Installation fitting is the root of a separate straight pipes also the corresponding valve member is connected to the ship together, and with a fixed support, and devices connected to the system and finally to form a complete pipe system.
Our service
Besides above the general specifications, we can also supply some specific Dredger Structural Pipes and other similar steel structure as clients' requirements.
Package and shipping
bulk package and bulk vessel transportation
container package and container transportation