There are three openings of fittings called Branch Pipe(tee). Tee widely used to transport liquid, gas pipe network. Due to different delivery medium, tee's material is divided into: iron, steel, copper, aluminum, plastic, glass etcThere are three hole, that is an inlet, two outlets; or two inlets, one outlet. A kind of chemical pipe, there are T-shaped and Y-shaped, with equal diameter nozzle, orifice diameter pipe there for three at the same or a different collection piping. Its main role is to change the direction of flow.
Photo of our Branch Pipe: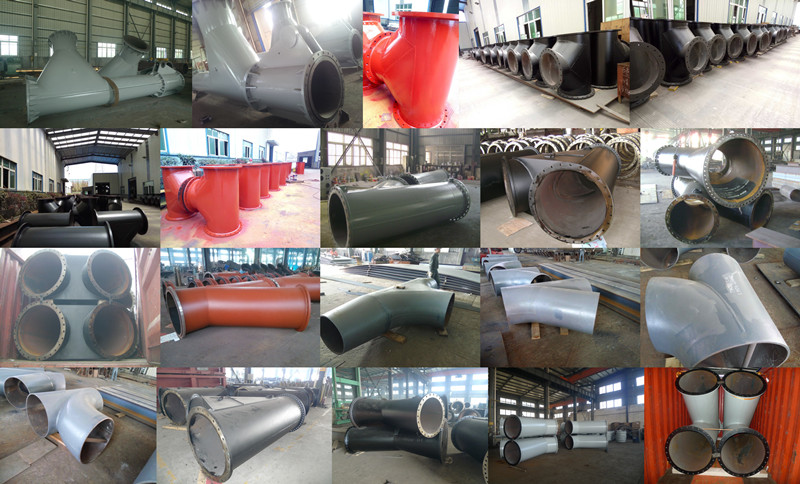 Classification
Press material can be divided into the three-way metal and nonmetal materials. Metal tee carbon steel, stainless steel, alloy steel, malleable iron threaded tee is the standard production, the implementation of the national standard is GB / 12459-2005. Non-metallic materials have a three-way PVC, UPVC, PPR and so on.
By snap connection can be divided and a threaded connecting the two.
According to the shape can be divided into T-shaped, chevron....
Structure:
Metal material and perpendicular to the tee with a competent supervisor in charge of the side and communicating with the competent set of pipes, valves disposed in the corner of the intersection of the competent direction of the outlet manifold outlet direction is provided round the valve and the valve on the valve in the closed lumen the inner wall of the lumen of the status of each other sealing structure. The utility model simplifying the piping set, saving the amount of piping components, easy operation, easy maintenance and each branch line branching phased supply. The utility has a new addition to the traditional role of the tee, but also play the role of duplex valve that executives and branch output can select any one closed, the other for the smooth working condition; the utility model can also be arbitrary adjusting executives and branch pipe output flow ratio, as long as the regulator valve angle can be realized within the lumen.
Standard
GB, electricity standard, technology standard, water standard, American standard, German standard, Japanese standard, the Russian standard, etc., as follows: GB / T12459-2005, GB / T13401-2005, ASME B16.9, SH3408, SH3409-96, SH3410-96, HG / T21635, DL / T 695, SY / T 0510, DIN 2615.
Application
For changing the flow direction, it can be used for water pipe, pipeline road and various liquid chemical material supply line. Mainly used for medicine, water conservancy (water-saving irrigation, water supply and drainage), energy (oil, natural gas, nuclear industry), construction and other projects.