Mooring Winch is in ship berthing ships or boats moored in dock stopping also can run effectively, and has many functions such as in loading and unloading process to drift, supporting and positioning of the role, also in constant tension adjusting vibration compensation of deviations. The application of the mooring winch which is installed on the shore to load or unload the mooring winch is a constant tension adjustment characteristic.
Winch according to the power is divided into three categories: manual, electric, hydraulic.
Winch according to the function can be divided into: Marine winch, winch, mine winch, cable winch, etc..
Photo of our Mooring Winch: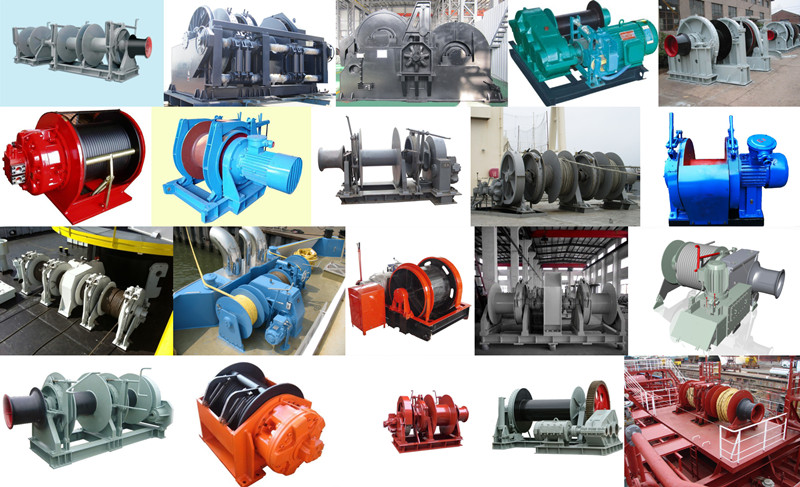 Marine winch can be divided into: mooring winch, winch, winch, winch etc..
According to the drum form is divided into single and double drum.
In accordance with the distribution of the drum is divided into parallel double drum and front and rear double drum.
Main technical parameters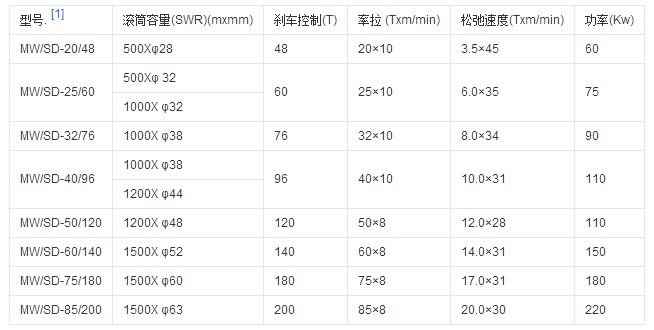 manual winches
Handle rotary manual winch drive mechanism is arranged on the stopper (ratchet and pawl), heavy things can be kept at the needed position. A safety handle and a brake should also be provided for the manual winch assembly or lifting of heavy loads. Manual winch is generally used in the area of small, poor facilities or no power supply.
Electric winch
Electric winch is widely used in heavy workload and the need for greater traction. Single drum electric winch (Figure) of the motor speed reducer drive drum, motor and reducer input shaft between the brake. In order to meet the needs of lifting, traction and rotation and other operations, there are double drum and multi drum device of the winch. General rated load of less than 10T of the winch can be designed to be an electric winch.
Hydraulic winch
Hydraulic winch is the main rated load of the winch, under normal circumstances 10T above to 5000T of the winch design into a hydraulic winch.
The structure is mainly composed of hydraulic motor (low speed or high speed motor), hydraulic normally closed multi disc brake, planetary gear box, clutch (optional), roll, support shaft, frame, press line device (optional). Hydraulic motor with high mechanical efficiency, large starting torque, and according to the requirements of working conditions with different distributor, can also according to user needs to design the valve group directly integrated in motor oil distributor, such as with the balance valve, the overload valve, high pressure shuttle valve, control valve or other performance of valve group, brake, a planetary gear box installed directly in drum, drum, a supporting shaft, frame according to the requirements of mechanical design, the overall structure is simple and reasonable and has sufficient strength and rigidity. Thus the series winch in the structure is compact, small size, light weight, beautiful appearance, and the like, in performance has the characteristics of safety, high efficiency, large starting torque, good low-speed stability, low noise, reliable operation, etc.. Worth mentioning is hydraulic motor high volumetric efficiency and the sun company quality balance valve to solve the winches are generally secondary decline and empty hook jitter phenomenon, making the upgrade of the series hydraulic winch, decentralization and smooth braking process, with a winch clutch can realize free downward. Integrated valve group is arranged in the valve plate is effectively simplified hydraulic system users. Because the series winch has the advantages, it is widely used in ships, railways, Construction Machinery, petroleum, geological exploration, metallurgy and other industries, its excellent performance has been recognized by the user.
Example: installation on the helicopter rescue equipment, main function is will persons or things to be lifted and lowered, its own power, can control the helicopter in maintaining a hover height, by hand winch control can retractable steel rope, to a person or thing lifted down.