structure
Casting elbow appearance
As the appearance of the welding elbow, then we say that the appearance of the casting elbow bar. Casting elbow appearance are fixed, of course, the general casting elbow appearance is according to different steel tube and to choose the different knowledge of casting elbow, so, in order to ensure the casting elbow appearance, usually Steel Pipe in the future, if not been yard rain washing off, then welding elbow after high temperature push general weld appearance of the elbow is appear out of the blue, of course, if the rain washed, we in high temperature after heating, heating welding elbow surface color are red. But overall, we guarantee tube is washed by the rain is very difficult, because is yard in summer is rain fog water washed, then push the system out of the welded elbow surface is red, too.
Photo of our Casting Bend: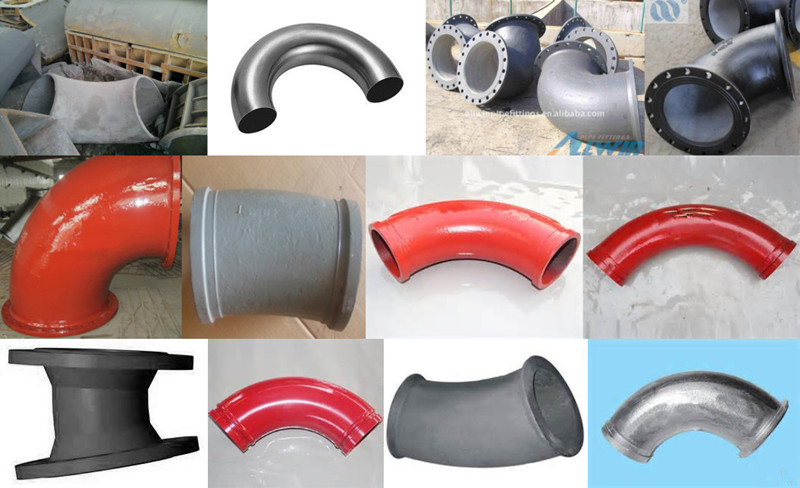 technical requirement
Geometric dimensions include outside diameter, inside diameter and wall thickness. Also requires control
Bend in production
Radius of curvature. For example, the radius length is 1.5D, and the radius of curvature must be within the range of tolerances required. Due to these fittings, most used for casting, in order to improve the welding quality, end vehicles into the groove, leave a certain angle, side band, this requirement is quite strict, edge thick, at an angle of number and range of deviation provisions, geometric size than pipe much many. The surface quality and mechanical properties are basically the same as that of the tube. In order to facilitate welding steel, and the connecting pipe are the same. Fourth, is all the pipe fittings should be through the surface treatment, the inner and outer surface of the oxide scale through shot blasting, and then coated with anticorrosive paint. This is not only for export needs, in addition, in the country is to facilitate the transport to prevent rust oxidation, to do this work. Fifth is the packaging requirements, for small pipes, such as export, you need to do wooden, about 1 cubic meter, this provision in the case the number of elbows about not more than a ton, the standard allows the suit, large sets of small, but the total weight usually do not more than 1 ton. For large to a single package, like 24 "must be a single package. The other is labeled packaging, labeling is to indicate size, number, batch number, manufacturer trademark. In the pipe to be stamped on stamp, and attached to the packing list and the quality book file.