Valve Body is a main component in the valve. According to the pressure level, there are different mechanical manufacturing methods. For example: casting, forging, etc.
The valve body of medium and low pressure specification usually adopts casting process to produce valve body.

The body of the medium - high - pressure specification is manufactured by forging process.
When sealed with the valve core and seat ring, the media pressure can be effectively borne.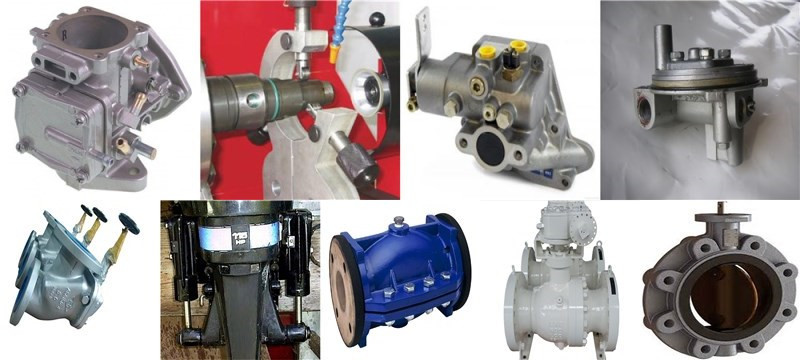 Definition
The "valve" is defined as a equipment in a fluid system to control the direction, pressure, and flow of the fluid. A valve is a device that control the medium (liquid, gas, powder) to flow or stop and control its flow in the piping and equipment

The material of valve body

choose different material

according to different craft medium.
Common materials: cast iron, cast steel, stainless steel, carbon steel, plastic, copper, etc.
Construction and feature
The construction is to be built according to the drawing with rules of good workmanship.
The hydraulically operated gate valves are built of a welded steel construction (stress released) for a wide range of inner pipe diameter and working pressure.
Feature:
1.The dredge valve is designed in such a way that there are no fasteners inside the body
2.Dredge valve is made of fabricated high tensile steel and cast steel
3.The dredge valve gate is made of corrosion resistant and hard steel
4.All dredge valves are operated by hydraulic cylinder located on the top of the dredge valve
5.The dredge valve body is stiffened with T-bars
6.The dredge valve body is is provided with inspection holes on both sides
7.Steel reinforced rubber seals are used to seal the pipe when the gate is down
8.Seals can be used both sides and turned in opposite direction when worn out
9.The rubber seals are hardened where necessary to increase the life time of the seals
10.All connections outside the body are bolts and nuts
11.The fabricated body is made from high tensile steel
12.Two flushing pipes are provided in the lower body of the dredge valve
13.Hoisting lugs are provided on the top of the body
14.Different duties being 10 bar, 20 bar and 30 bar to fit the right application
15.Easy handling and installation due to hosting lugs and compact design
Materials
All fabricated steelwork used in the construction will be to manufacturing standard of normal or classification society.
All materials proposed will be selected to comply with the latest Health and Safety Rules.
Paint systems for hull protection will be of the highest quality (Hempel, Inter, Sigma, Jotun)