The general name of Construction Machinery used in engineering construction. Widely used in construction, water conservancy, electricity, roads, mines, ports and national defense and other engineering fields.
Photo of our Construction Machinery: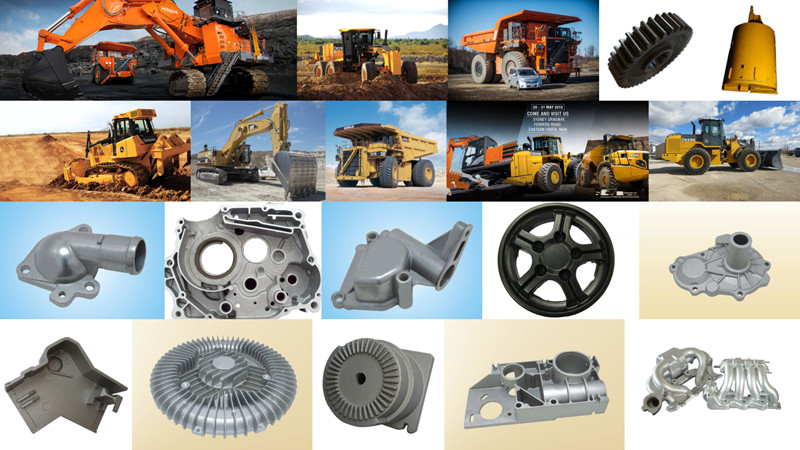 Brief introduction
Construction machinery is an important part of equipment industry. In general, where the construction of earthwork engineering, road building and maintenance, flow up necessary for heavy loading and unloading operations and various construction projects required comprehensive mechanized construction engineering machinery and equipment, known as the mechanical engineering. It is mainly used for national defense construction projects, the construction of transportation, energy industry development and production, mining and other industrial raw materials of construction and production, agriculture, forestry and water conservancy construction, industrial and civil construction, urban construction, environmental protection and other fields.
In the world, to address the basic similarity, which the United States and the United Kingdom said for construction machinery and equipment, Germany for construction machinery and equipment, Russia called for building and road construction machinery, known in Japan as the construction machinery. In the Chinese part of the product is also known for construction machinery, and in mechanical systems based on the State Council set up the industry approval referred to as mechanical engineering, has continued to the present. Countries on the delineation of the industry product range roughly the same, China Construction machinery and other countries comparison also increased the railway engineering machinery, forklifts and industrial handling vehicles, decoration machinery, elevator, pneumatic tools, such as industry.
Brief history
Humans have a long history of using lifting tools instead of manual labor. The history about 1600 BC, Chinese used shaduf and windlass. The former is with heavy leverage, which is the prototype of hand winch. Ancient Egypt and Rome, lifting tool also has more applications. The development of modern engineering machinery, began after the invention of the steam engine, in the beginning of nineteenth Century, Europe appeared a steam engine driven excavator, road roller, crane, etc.. Since the invention of the internal combustion engine and the electric machine, the construction machinery has been developed rapidly. After the Second World War, the development of more rapid. Its variety, quantity and quality directly affect the development of a country's production and construction, so all countries pay great attention to it.And now, in a variety of engineering machinery can see the wireless control function.
General heavy industry construction machinery
1 mining machinery such as single bucket excavator (also can be divided into crawler excavator and wheel type excavator), multi bucket excavator (also for Bucket Wheel excavator and chain bucket excavator, bucket trenching machine (and bucket wheel trencher and chain separating bucket trencher), rolling mining and milling machine, cutting excavators, tunnel boring machine (including the shield machine) and so on.
II of earthmoving machines such as bulldozer (also can be divided into rubber tyred bulldozers and crawler bulldozer, scraper can be divided for crawler self-propelled scrapers, tire scraper and towed scraper), loader, can divide again for wheel type loader and crawler loaders, graders (can be divided into self-propelled grader and towed grader), transport vehicle (also can be divided for uniaxial transport vehicle and biaxial traction transport vehicle), flatbed truck and dump trucks.
The hoisting machinery such as tower crane, self-propelled crane, derrick crane, Grab crane etc..
The compaction machinery such as tire road roller, smooth wheel roller, single foot pressure roller, vibratory road roller, ramming machine, tamping machine.
The piling machinery such as drilling machine, diesel hammer, hammer vibrating machine, etc..
The reinforced concrete machinery such as concrete mixer, concrete mixing station, concrete mixing building, concrete conveying pump, concrete mixing and transporting car, jet concrete, concrete vibrator, steel processing machinery and so on.
The road machinery such as flat machine, ballast cleaning machine etc..
The rock drilling machinery such as drilling rig, pneumatic rock drill, electric drill, rock drill and DTH Drill etc..
To other engineering machinery such as erecting machine, pneumatic tools (pneumatic tools) etc..
Industry classification
A wide variety of mechanical equipment. Some parts of mechanical equipment can carry out different forms of mechanical movement when they are running. The mechanical device is composed of a driving device, a speed changing device, a transmission device, a working device, a braking device, a protection device, a lubricating system, a cooling system, and other parts.
The main products of the machinery industry include the following 12 categories:
(1) Agricultural Machinery: tractors, sowing machines, harvesting machinery, etc..
(2) heavy duty mining machinery: metallurgical machinery, mining machinery, lifting machinery, loading and unloading machinery, industrial and mining vehicles, cement equipment, etc..
(3) construction machinery: shovel soil transport machinery, compaction machinery, concrete machinery, etc..
(4) the general petrochemical machinery: oil drilling machinery, oil refining, machinery, chemical machinery, pumps, blower, valves, gas compressor, refrigeration and air conditioning machinery, paper machinery, printing machinery, plastic processing machinery, pharmaceutical machinery and so on.
(5) electrical machinery: power generation machinery, transformers, high and low voltage switches, wire and cable, battery, electric welding machine, household appliances, etc..
(6) machine tools: metal cutting machine tools, forging machinery, casting machinery, woodworking machinery etc..
(7) car: truck, road passenger cars, cars, modified cars, motorcycles, etc..
(8) instrumentation: automation instrumentation, electrical instrumentation, optical instrument composition analyzer, automobile instrument and meter, electric equipment, audio-visual equipment, cameras, and so on.
(9) basic machinery: bearings, hydraulic parts, seals, powder metallurgy products, standard fasteners, industrial chains, gears, molds, etc..
(10) packaging machinery: packaging machines, packing machines, conveyors, etc..
(11) environmental protection machinery: water pollution control equipment, air pollution control equipment, solid waste treatment equipment, etc..
(12) mining machinery
Classification of construction machinery
(1) mining machinery
(2) shovel soil transport machinery
(3) lifting machinery
(4) industrial vehicles
(5) compaction machinery
(6) road machinery
(7) pile machinery
(8) concrete machinery
(9) reinforced and prestressed machinery
(10) decoration machinery
(11) drilling machinery
(12) pneumatic tools
(13) railway machinery
(14) tunneling machine
(15) municipal engineering and environmental sanitation machinery
(16) military construction machinery
(17) elevator and escalator
(18) special parts for construction machinery
(19) other special construction machinery