The spud is main part Cutter Suction Dredger, when operation, through steel spud
Cross-cut construction method
1, the cutter suction Dredger is equipped with spud in the general area of construction, steel spud should be symmetrical cross-cut method or a steel cross-car spud digging method of construction.
2, in the area of large waves, equipped with three cable dredger positioning spud should be positioned with three cable cross-cut construction method.
3, the flow velocity in large areas or large waves, equipped with an anchor on the cable cross digging equipment cutter suction dredger, anchor cable should be used cross-cut construction method
Segment dig method
1, Trench length greater than the length of the water pipeline dredge effective extension should be segmented according to the length of the dredgers and the construction of water pipelines can Excavation.
2. Trench turnaround curve is divided into several sections require excavation of straight line segments can be linear piecewise curve approximation safe construction.
3. Trench different specifications or different schedule requirements, should be in accordance with the requirements of the contract segment.
4, navigation or interference by other factors, the construction can be segmented as needed
Shun countercurrent construction
When river construction using steel spud positioned, should adopt the downstream construction; construction should be used when using countercurrent anchor cable cross-dig construction method; when the large flow rates, and can be used under construction downstream end of the anchor to ensure safety.
Photo of our Marine Spud: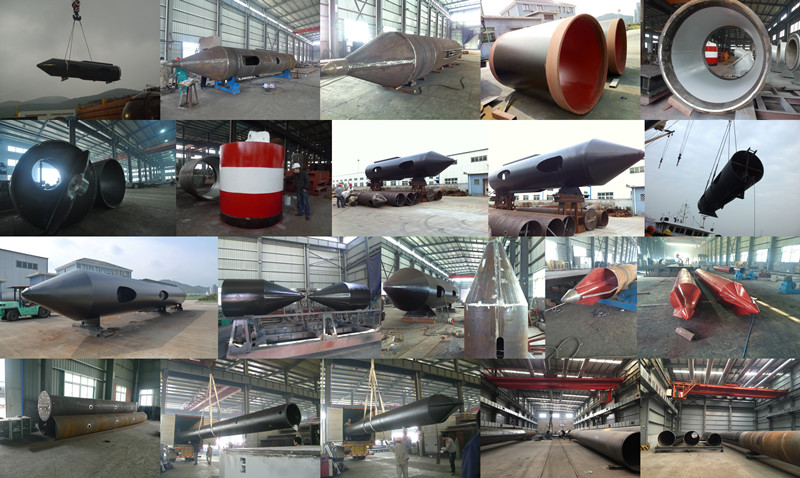 The specifications of our spud
A. General
High accuracy, fully welded, painted construction can be used for cutter suction dredger.
When the cutter suction dredger is working, two spuds insert the sea alternatively, one is main pile, always aligned pocket centerline and the other is vice pile used forward exchange, to meet dredger back and forth and meet dredging work.
B. Construction and procedure
The construction is to be built according to the drawing with rules of good workmanship and to be built the longitudinal frame system.
The construction is of rolled Steel Pipe sections with varying wall thickness, from40mm to 150mm, which are carefully manufactured and checked to ensure roundness, straightness, segment connection deflection within the specific tolerances.
C. Procedure
Pre-roll bending pf plate-Rolling of cylindrical hull-Welding the vertical seam to close the section-Heat treatment-Rolling to correct ovality-Assemble of the several pipe sections-Assemble with accessories(Sheave, expansion part etc.)
D. Materials
All fabricated steelwork used in the construction of the spud will be to manufacturing standard of classification society BV, GL, LR, DNV
All steel used to be blasted and shop primed both sides. Using DH36 and D690
All materials proposed will be selected to comply with the latest Health and Safety Rules.
Paint systems for hull protection will be of the highest quality (Hempel, Inter, Sigma, Jotun)
E. Welding
All welding will be performed in accordance with drawing and order and UniSite experience and all welding will be continuous and full penetration.
Welding seam preparation, welding method, welding material and consequent preheating temperature acc. to UniSite standards and approved by clients.
UniSite will control preheating, cooling down rate
Weld surface on the outside spud surface are to be grinded flush.
All welding to be examined UT and some to be examined X-ray.
F. Workmanship
The workmanship have good marine practice. Care are taken to ensure fair lines, smooth surfaces and neat welding.
G. Main particulars
| | |
| --- | --- |
| | MAIN PARTICULARS |
| Tolerance | High accuracy(ISO2768, ISO5817, ISO13920) |
| Material | DH36, D690 with Z-quality or other materials |
| Dimension(L*B*H) | As per drawing, as large as we can |
| OD | 900mm-2800mm |
| Weight | 60Ton~400Ton |
| Coating | Sa2.5 blasted and two or three layers painted with highest quality |
| Marking | as per clients' requirements |
| Inspection | material, construction, dimension, welding seam, non defective test, paint inspection |
| Experience | We made OD2600*63m with total 360Ton spuds for world top dredging company. |
| Others | Recyclable, in line with environmental requirements and standards, and reliable |