Submerged arc welded pipe: a strip coil as raw material, often warm extrusion molding, automatic double wire double buried arc welding process of welding and the Spiral Pipe joints. The characteristics of submerged arc welded Steel Pipe: welded pipe production process is simple, high production efficiency, low cost, rapid development. Strength of spiral welded pipe is usually better than straight seam welded pipe is high, can use a narrow diameter of billet production larger pipe can also differ with the same width of the billet production diameter pipe.But with the same length of Straight Pipe, weld length of 30~100%, and the production rate is low.
Photo of our Saw Pipe: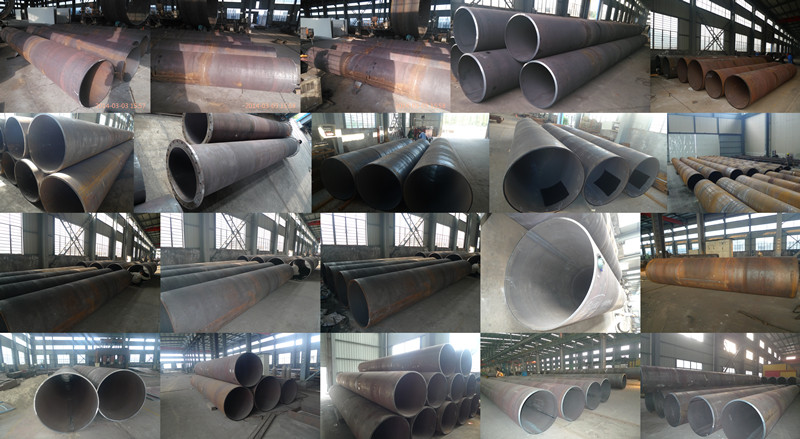 Submerged arc welding steel pipe material: Q235A, Q23b, 0Cr13, 1Cr17, 00Cr19Ni11, 1Cr18Ni9,
Large diameter submerged arc Welded Steel Pipe
Q345 L245 L290 X42 X46 X70 X80 0Cr18Ni11Nb.
(1) raw material that is strip coil, welding wire, flux. Have to go through strict physical and chemical tests before they are put into the investment.
(2) strip head and tail docking, using single or double wire submerged arc welding, the steel tube rolled by automatic submerged arc welding welding.
(3) before molding, the strip passes through the leveling, trimming, planing, surface cleaning and conveying, and bending and handling.
(4) using the electric contact pressure gauge to control the pressure of the cylinder on both sides of the conveyor, to ensure the smooth delivery of the strip.
(5) the external control or internal control roll forming.
(6) using the welding gap control device to ensure that the weld gap to meet the requirements of welding, pipe diameter, the wrong side of the amount and the weld gap are strictly controlled.
(7) welding and welding with the Lincoln Electric welding machine for single or double wire submerged arc welding, so as to obtain the stable welding specification.
(8) the welding seam after welding is through the online continuous ultrasonic automatic inspection, to ensure that 100% of the spiral weld nondestructive testing coverage rate. If there are defects, automatic alarm and spraying marks, the production workers at any time to adjust the process parameters, timely elimination of defects.
(9) the air plasma cutting machine to cut a single pipe.
(10) into a single tube, each batch of steel tube head to strict inspection system first, check the weld mechanical properties, chemical composition, blending, surface quality of steel pipe and after nondestructive inspection, to ensure that the pipe manufacturing technology qualified, can be formally put into production.
(11) in the weld on the site of continuous acoustic inspection marks, after manual ultrasound and X ray review, if there are defects, after repair, once again after the non destructive testing, until the defects have been eliminated.
(12) strip butt weld and intersecting and spiral seam D connector tube, all through X ray TV or film examination.
(13) each pipe is tested by hydrostatic pressure, and the pressure is sealed by radial seal. The test pressure and time are strictly controlled by the steel pipe water pressure computer testing device. Automatic print record of test parameters.
(14) the pipe end machining, the end verticality, accurate control of slope angle and blunt edge.
Submerged arc welded steel pipe and its standard classification: pressurized fluid transportation of spiral submerged arc welded steel pipe (SY5036-83) is mainly used for oil and natural gas pipeline; pressure fluid transportation with spiral welded steel pipe (sy5038-83), with high frequency welding method of lap welding, used for pressure flow transport of spiral seam high frequency welding steel tube. Steel pipe pressure ability, good plasticity, facilitate welding molding and processing; generally low voltage liquid transportation with spiral submerged arc welded steel pipe (SY5037-83), using double-sided automatic buried arc welding or welding was made for water, gas, air and steam general low-pressure fluid conveying submerged arc welded steel pipe.